I'm obsessed with
allrecipes.com
. Seriously,  this site is AMAZING if you're looking for new recipes. Example:  last summer I had a few peaches that I needed to use up but not enough to can or make a whole pie or anything. So I searched for "peaches"  and found a recipe for peach muffins. That recipe has quickly become a favorite,  and is a post in and of itself for another day...
And you can sign up for a free membership and "collect"  recipes in your own "recipe box,"   so you don't have to re-search for recipes you want to make again!
So about a month ago (during a super-hot week where I didn't want to heat up the house for any reason) I was planning on grilling steaks and corn on the cob,  and had a bunch of red potatoes. I searched the site for "grilled potatoes"  and stumbled upon
this recipe
. I had all the ingredients on hand,  so I gave it a try. Wow! The flavor was sooooo good! I bought a larger container of mayo the next time I was at the store 'cause I knew I'd be making these again...
I've made a few tweaks to the original recipe,  and here it is in all it's perfect-ness:
Savory Grilled Potatoes
(serves 2,  very easy to double,  triple,  etc.!)
1/4 cup mayo
1 heaping Tbl grated Parmesan cheese
1 garlic clove, minced
1/4 tsp salt
1/4 tsp paprika
1/4 tsp black pepper
1/4 tsp onion powder
2 medium baking potatoes (or 3 red potatoes),  cut into 1/4 inch slices
2+ Tbl butter
In a large bowl,  combine first seven ingredients. Add potatoes,  toss gently to coat. Spoon onto a double-thickness of
greased
 aluminum foil. Dot with butter. Fold foil over potato mixture and seal tightly. Grill,  covered,  over medium heat for 30-35 minutes,  turning once.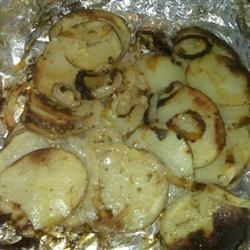 I really like how the more-done,  crunchy ones taste. :) Hooray for easy,  grilled recipes!! (one word of caution:  don't forget to grease the foil and dot with butter... unless you want to be mumbling and grumbling as you attempt to scrape and salvage the potatoes...)